The heating and cooling system in your home is an important investment. Your air conditioning system responsible for keeping everyone in your home cool and comfortable over the summer. Is it time for a new AC? When you have a system that no longer work or just doesn't work as well, it's time to consider upgrading to a new ac system you and your family can rely upon.
NEW AIR CONDITIONER INSTALLATION
Maximum Heating & Air Conditioning is your team of expert Air Conditioning Installers. For years we have been relied upon to professional install cooling systems for homes and businesses across our community. We can provide replacement services of an old unit.
We also provide professional installation of a completely new AC system. Whether you're dealing with new construction, a remodel, or simply don't yet have central AC in your home, let Maximum install a new high-efficient cooling system for you. We will handle all the details including any needed duct work and installing a digital thermostat.
REPLACING AN OLDER AC
Deciding when to replace an older air conditioner can be difficult. If your ac has broken down, then it's an obvious choice. But often homeowners are dealing with older AC units that technically work, but are not keeping their home as consistently cool all summer. And that may not be your only problem. You can no longer expect your cooling system to operate reliably and efficiently. And that may be noticeable on your energy bill. An AC that is requiring more and more power to cool the air can take up more costly resources to do it.
THE RIGHT AC FOR YOUR HOME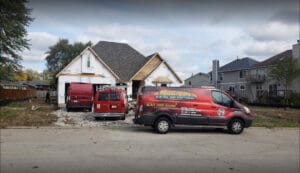 Cooling systems are not a one size fits all situation. Depending on the size of your home, how well it's insulation and other factors are important in determining exactly what AC you need. When you call on Maximum Heating & Air for your air conditioner replacement or installation, we first walk through your home's and your family's temperature needs. We will provide you with a variety of options that work best for your home. Contact us for a free quote.
Call us at (630) 788-4688.
AFFORDABLE SERVICE & QUALITY PRODUCTS
With Maximum, you can trust to receive quality product and installation at a fair price. You can read glowing reviews and testimonials from so many customers who have told us how satisfied they were with the honest pricing and quick work done by our skilled technicians.
Did you find yourself needing a HVAC system before you were able to budget for it? Not immediately having the finances to afford the heating or cooling needs of your home should not keep you and your family from being uncomfortable. Maximum provides several financing options for air conditioner installation or other HVAC work you need now. After all, no one should have to suffer through a hot Midwest summer!
We also provide a variety of discounts and special deals to help you take advantage of even more ways to save money on the home cooling system work you need in your home. Check out our page of discounts and promotions to see how you could save hundreds of dollars!
Maximum Heating & Air provides full cooling service including:
Contact Maximum Today!
Don't suffer through another hot Illinois summer with a cooling system that can't keep up. Improve the comfort and the energy savings in your home with installation of a new AC from the trusted experts at Maximum. Call us at (630) 788-4688 today to learn how we help you make one of the best investments you can on your home.