Best Furnaces to Buy in 2020
Comparing a Lennox Heater For Efficiency & Quality
When making a big investment in your home, you should get the best for your money. Getting a new heating system installed in your home is a big investment. But fortunately, when getting a new heater, it is an investment that pays off.
With a quality new furnace, you will experience improved and consistent heating throughout your home. You will have a home that feels exactly the right temperature no matter what the weather is outside. In addition, you will benefit by saving money with a modern HVAC system that is more energy efficient.
Why Quality & Efficiency Matters for a Furnace
Having installed new furnaces for homes and businesses all across the Aurora area, our team at Maximum Heating & Air Conditioning know how important getting the right system is to ensuring home comfort for decades to come. You are purchasing something that should last you 20 or more years. Also, getting an efficient furnace that is the right size for your home will determine how much your energy bills will be each month.
A good furnace that is installed by professionals means you also get peace of mind. When you have a new heating system in your home, you should no longer worry about breakdowns or problems that can happen with aging furnaces. Simply handling regular maintenance and tune-ups on a new furnace will help ensure you have a worry-free home heating system.
Best Furnaces to Buy in 2020: Brands
If you are looking to purchase a new heating system over this 2020-2021 winter season, you should know how the different furnaces made by different companies compare.
Many brands of furnaces and heating units are available to Illinois homeowners. From Rheem and Goodman furnace to Carrier and American Standard, each of these companies create their own furnaces. So, which should you choose? What are the best furnaces to buy in 2020?
In a comparison by Modernize, no heating & air manufacturing company does better than Lennox in the important factors that equal a high-quality and long-lasting system.
| | | | | | | |
| --- | --- | --- | --- | --- | --- | --- |
| | LENNOX | Rheem | Goodman | Carrier | Amana | Trane |
| Energy Efficiency | 9 | 8 | 8 | 8 | 7 | 8 |
| Warranty | 8 | 8 | 8 | 8 | 6 | 7 |
| Customer Service | 9 | 7 | 7 | 9 | 8 | 9 |
Even More Great Reviews for Lennox Furnaces
Lennox doesn't just get great ratings there. The Better Business Bureau gives Lennox Industries, Inc an A+, its top rating.
The digital publication HVAC.com notes that factors like efficiency and sound rating make Lennox a top 2020 furnace pick. This industry site adds that Lennox makes one of the quietest oil furnaces available.
If energy efficiency is important to you, count on Lennox to always deliver. In the Best High Efficiency Furnaces of 2020 by Furnace Price Guides, you will find two Lennox models listed as the top picks. Both the Lennox SL297NV Ultra Series and the Lennox SLP98V Series are great options that are affordable, energy efficient, and with reliable brand ratings.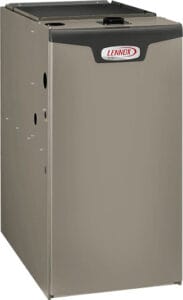 Lennox's Long History of Quality
Hardly any companies have been in business as long as Lennox Inc. has. Lennox Industries has been doing business across the America for 125 years! They have lasted so long due to the company's dedication to providing quality service.
Founder Dave Lennox started the company originally in Texas in 1895. Lennox remains an American company and has manufacturing and distribution facilities across the Midwest.
Lennox Options Fit Your Budget
Lennox provides three different furnace types to accommodate whatever needs you have.
Merit: Entry-level furnaces that are great solutions for any budget
Elite: Mid-range options providing more superior heating and higher efficiency
Dave Lennox Signature Collection: The highest-level of Lennox furnaces that have the most optimum features
While each new Lennox furnaces are highly energy efficient, the Dave Lennox Signature series are the most efficient. With an efficiency rating of 98.7%, they work to heat your home at peak efficiency. This results in lower energy bills and a smaller carbon footprint.
Just how much money can you expect to save? Use this online Energy Saving Calculator to compare a new system with a high AFUE rating to your current furnace.
Beyond purchasing a system that is energy efficient, you can do other things to increase efficiency in your home. From thermostat control to indoor humidity levels, Maximum Heating & Air Conditioning in Aurora provides a variety of services to improve home comfort and efficiency. Give us a call at (630) 788-4688 and let us show you the many options you have!
Even More Important than Choosing the Best Furnace
After you've determined what furnace is the best for your home, there is still one more factor to make sure your home will have the best temperature control. As important as getting a quality furnace, you need to make sure that it gets properly installed by licensed professionals.
This means more than just hiring professional HVAC technicians. You also need an experienced and knowledgeable contractor who uses the Manual J HVAC Residential Load Calculator. This formula is used to calculate the type and size of the furnace that is perfect for your home.
Maximum Heating & Air Conditioning is proud to have a solid team of experienced furnace installation technicians with experience installing Lennox furnaces across Aurora. In fact, Lennox is the only brand of systems that we install.
Contact Maximum Heating & Air online for a free quote on a new furnace for your home.
We will go over the options you have. We will listen to your needs for a new home comfort system and go over the factors important to choosing a new furnace. From electric furnaces to ones that run on natural gas, we will help you understand how different energy sources affect your monthly energy costs.
Furnace prices and installation costs can seem daunting, but we will make sure you feel confident in knowing that you're getting the exact heating system your home needs.
Call us today for a free quote on getting an energy-efficient Lennox furnace installed in your home – (630) 788-4688.