A Furnace Problem & Carbon Monoxide Threat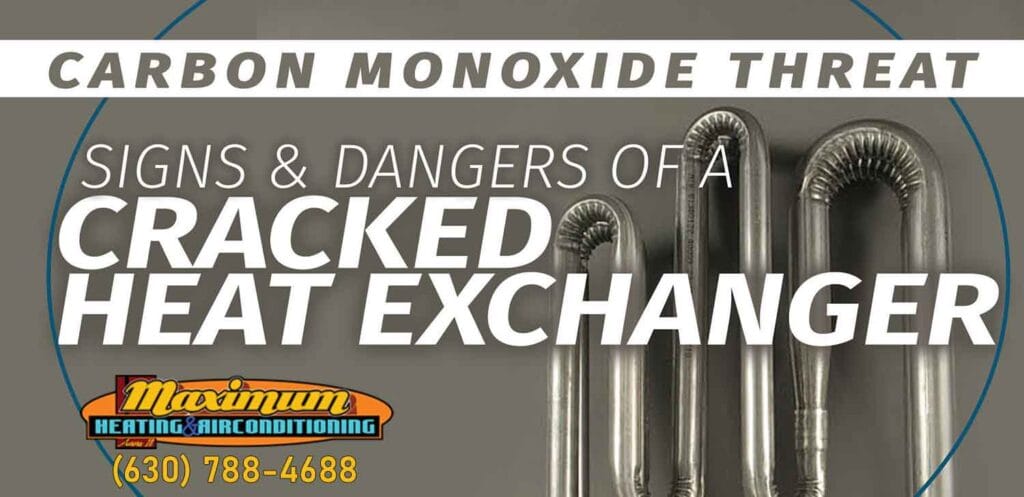 There are many different kinds of problems a furnace could have, especially as they get older. Most furnace repairs that homeowners encounter are relatively minor and do not pose a major concern. However, a furnace with a cracked heat exchanger is a dangerous problem you need to address right away.
A crack in your heat exchanger could let gas escape from your heating unit, which means carbon monoxide could be seeping into your home.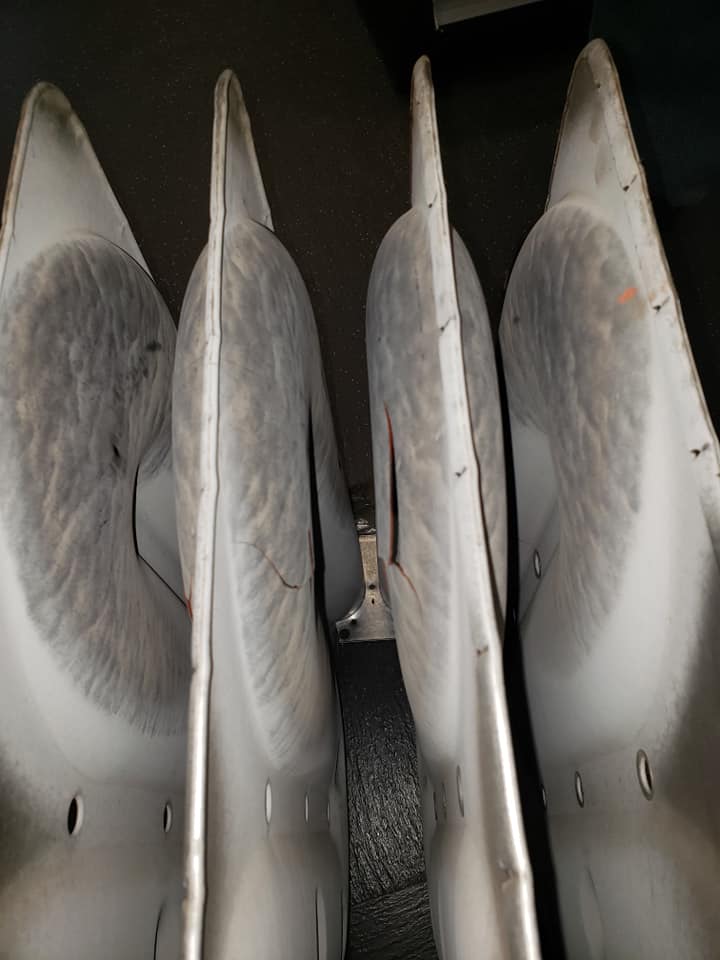 What is the Level of Carbon Monoxide Risk?
A cracked heat exchanger puts you at risk for carbon monoxide. But this problem does not always mean that CO is being leaked into your home. It is possible that your heat exchanger could have a crack but is NOT causing a carbon monoxide leak.
However, this is not a chance you should take. Because there is always the potential danger that carbon monoxide could be leaking from a cracked heat exchanger, you should immediately take steps to get it addressed by a professional HVAC technician.
In fact, this is such a potential hazard, you should not turn your furnace on again until it is fixed. A professional who detects a crack may decide to shut down your furnace. That ensures it cannot be turned on in order to ensure the safety of everyone in the home.
Main Causes for a Heat Exchanger to Crack
The main cause for an exchanger to get a crack is from the unit overheating. If a furnace does not get sufficient airflow, the heat exchanger gets too hot and can crack under the pressure of continuing to expand and contract.
What restricts airflow? Surprisingly, simply having a dirty air filter is often the reason. This is a great reason why having a clean furnace filter is the most important maintenance you need to do on your home's heating system. This simple task is vital in helping to prevent such dangerous problems as cracked heat exchangers. Other issues, like a furnace that is too large or too small for your home, can also cause an exchanger to crack.
Does It Always Require Repair?
Yes. A cracked heat exchanger is always a risk for dangerous, even deadly, carbon monoxide poisoning. The fix is to have your heat exchanger replaced. Or you may want to replace your furnace, especially if your furnace is more than 10 years old.
How To Tell if a Heat Exchanger is Cracked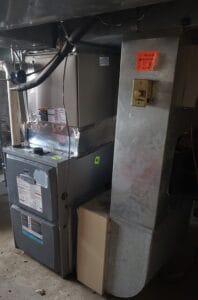 In a visual inspection of your furnace, you may be able to actually see a crack. But there are other signs, including:
Soot build-up inside of the furnace
Cracks or corrosion on other parts of the heating system
Wet floor near the furnace (that's not from condensation)
A cracked heat exchanger is not always easy to see. In many instances, you will not be able to detect a crack by visible inspection by the homeowner. Special tools and devices may need to be utilized to detect cracks that a non-professional cannot see on their own.
At Maximum Heating & Air Conditioning, we use a combustion analyzer to fully check for any cracks in your heating unit. A combustion analyzer provides oxygen and carbon monoxide readings to determine if there is any leak of any scale.
If you suspect you have a dangerous problem like a cracked heat exchanger, call Maximum right away at (630) 788-4688. We will send one of our heating repair technicians out to accurately test your unit for cracks. We provide 24/7 emergency furnace repair service and can fix your system quickly and safely any time, any day.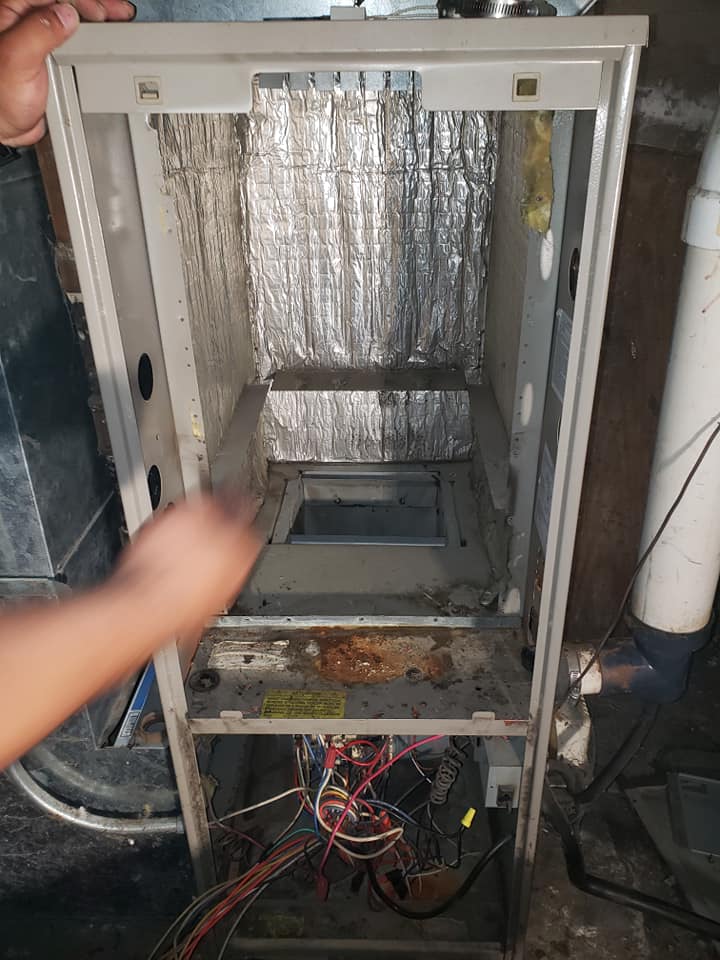 Cost To Replace a Heat Exchanger
The typical cost for replacing an exchanger in your furnace is between $600 and $1200. If your furnace is rather old, you may want to consider getting your whole furnace replaced. Our technicians are experienced in the repair and replacement of heat exchangers. We are also professional installers of new furnaces. We can provide you with the information you need to best determine if a new heating system is your best option.
A Note About Cracked Heat Exchanger Repair Scams
There have been instances of untrustworthy HVAC companies or handymen that claim a heat exchanger had a crack when that wasn't the case. They may try to worry a homeowner about a CO leak in order to get work done that isn't actually necessary.
If someone tells you that your heat exchanger is cracked but you have reason to doubt their finding, contact Maximum Heating & Air Conditioning for a free second opinion. We pride ourselves on providing the most fair and excellent level of service and pricing. You can read testimonials from the many satisfied Aurora customers who recommend Maximum Heating & Air Conditioning.
Call Maximum for a free 2nd opinion at (630) 788-4688.
Avoid Cracked Heat Exchanger Dangers
Because improper air flow can cause a crack in a heat exchanger, the best thing a homeowner can do is to regularly change the air filter. In addition, performing seasonal maintenance on your heating and cooling system can identify problems early and before they become a danger to your home and family.
Maximum offers a Maintenance Service Program to provide homeowners with regular professional maintenance on their home comfort system. We ensure the furnace is in good working order before winter and that the AC is ready to handle the upcoming summer. Our program includes duct cleaning and a whole host of other services to make sure your system is working correctly and safely. It has provided Aurora homeowners peace of mind knowing that they can trust their furnace and air conditioner is working properly and efficiently all year long.
Call Maximum today to learn more about how we can take the work and worry of handling your home's HVAC maintenance. Call us at (630) 788-4688.