Is Your Furnace Ready for Winter?
Why Now is the Time to Check Your Heating System
Even though it still feels like summer, now is the perfect time to start thinking about your heating system. The snow and ice may feel like an eternity away, but the reality of a furnace or heater breaking down amid a frigid Illinois winter is a real concern. It's one our trained technicians at Maximum Heating & Air deal with every winter.
Without fail, some problem or system breakdown will happen to many unfortunate homeowners at the worst possible time. While you can always call our Maximum team for emergency furnace repair 24/7, we want to help you prevent this disaster from happening in the first place. In this article, we are going to explain how proper furnace maintenance can save you from potential heating disaster. And we will also show you the one easy, quick thing you can do RIGHT NOW that will go a long way in preventing a problem.
Will Your Heat Turn On?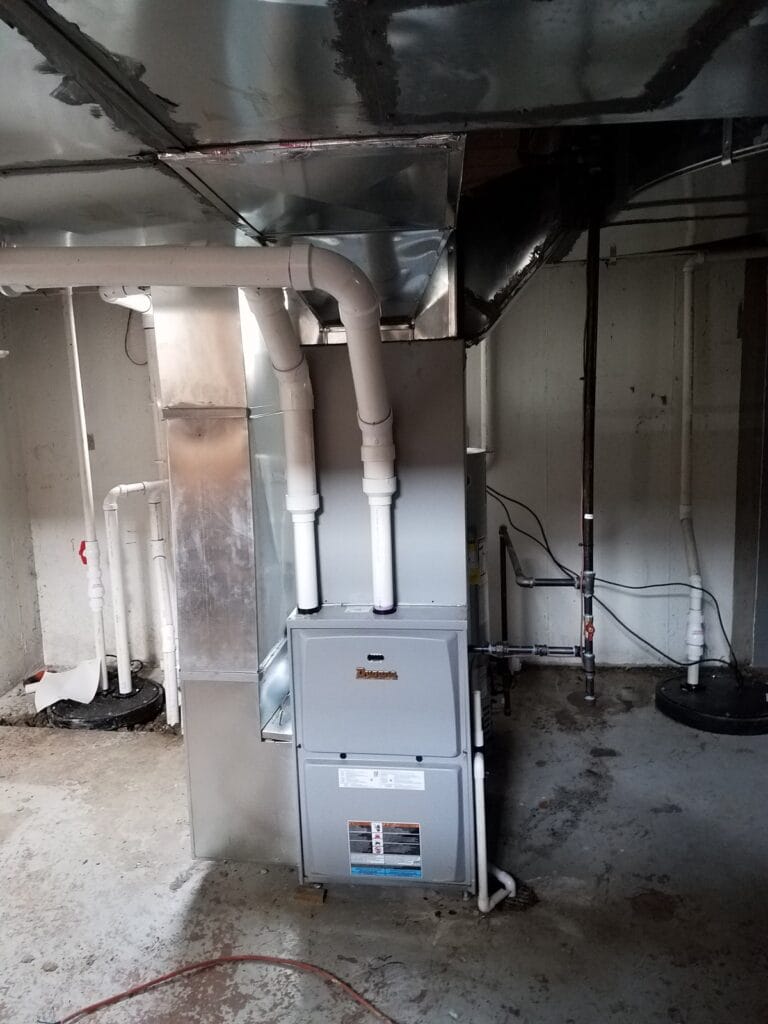 You have not needed to turn on your heat for many months. Will it be ready to work well for you when the first cold snap happens in Aurora?
Waiting until temperatures have dropped low enough to need your heat on is too late. Finding out that your furnace is not working when it's already cold out means you have no time to wait for repairs.
If that happens, you will probably be left waiting in the cold.
You and your family can expect to be waiting quite some time for a qualified HVAC repair technician to get your heating system back up and working. Because just as you are finding out that your furnace isn't working, so are hundreds of other families. We have seen this happen every year for the nearly 2 decades Maximum Heating & Air has been serving the greater Aurora community.
As we head into another cold Illinois winter, we want to help homeowners avoid having this sort of heating emergency. The truth is that many of these furnace breakdowns can be avoided. By simply doing one thing, you could prevent finding yourself without a heating system in the coldest days of the winter.
Preventing a Heater Emergency: What to do RIGHT NOW
Remember we told you there was one simple thing you needed to do. We were not exaggerating. Just simply turn your heat on right now and test your system.
Doing a test run of your furnace should be done every year at the end of summer. When precisely? Our weather isn't the same from year to year so there's no absolute date of when you need to first test out your heating system. You will want to do it well before you need heat.
Do you recall when you first turned your heat on last year? In Aurora, our temperatures first dipped close to freezing on October 12, 2019.

Remember, it's not just about you and your home. When does everyone else turn their heat on? While you may be an energy saver who holds out until it gets quite cold before turning on your furnace, that is not common. Waiting until October to find out if your heating system is in working order may be too late to get quick service from a good repair company if it urgently needs it.
August or early September is a good time to turn your furnace on for this initial test.
Sure, it is probably still quite warm out, but turning on your heater before you actually need it is important. If you do not feel the heat or detect some problem such as hearing odd, persistent sounds, at least now you know you may have a problem. And now you've given yourself plenty of time to make sure it gets fixed before you need to use it this winter.
Some Furnace Problems to Look Out For:
Heaters short cycling
Furnace won't ignite
Furnace making odd sounds
Turning your heater on before you need it may sound dumb, but it is the smartest thing you can do.
When hundreds of families across Aurora are all in need of a furnace repair at about the same time, there aren't suddenly hundreds of more skilled HVAC technicians available to do the job. Our team will be working night and day getting broken heating systems up and running.
Your Heat Turns On: Are You in the Clear?
If your heating system successfully turns on, emits heat, and appears to be working normally, you may be in the clear. This is especially true if you have a system that is not too old, has been regularly maintained, and has had the air filters changed on a regular basis.
However, even in the best circumstances, it's always a good idea to have your heating system maintained on a yearly basis. There are a variety of issues that could affect how well a furnace operates that are not immediately apparent.
Regular HVAC maintenance is the absolute best way to ensure your heater is working well and efficiently. Maximum Heating & Air provides a yearly Maintenance Program that allows for us to provide this service to homeowners and give them peace of mind that their system can be expected to run at peak performance year in and year out.

Maximum's Fall Furnace Tune Up
Contact us for a Fall Furnace Check & Tune Up. One of our experienced technicians will come to your home and do all the necessary testing of your HVAC system. We will make sure that your furnace is working properly and efficiently. An inefficient heating system will waste unnecessary amounts of energy, possibly leaving you with a larger than expected energy bill in the middle of winter!
Testing to make sure it is working properly and safely
Changing the air filter
Checking duct work and all other components of your heating system to make sure any possible problems or issues are detected and resolved
Checking that the thermostat is working properly