Top Furnace Issues in Cold Weather
Top Heater Problems in Freezing Temps
You should be able to rely on a good furnace to keep your home warm and comfortable for a long time, even for decades. At Maximum Heating & Air Conditioning, we often get called out to service heating systems that are more than 2 decades old. Our team of heating repair technicians are familiar with the common furnace issues in cold weather.
Why do some furnaces last so long? The short answer is good maintenance. How well you keep your HVAC system maintained is the #1 factor in how long it will last you.
However, beyond keeping up on basic home heating maintenance, there are issues that homeowners should be aware of in order to best stay on top of having a furnace working each winter, efficiently and safely.
How Freezing Weather Affects Your Furnace
The cold snaps we experience in northern Illinois can really put your furnace to the test. That brings us to one of the top furnace issues in cold weather. That extra demand during freezing temps on your home's heating system can cause problems with your furnace.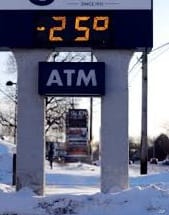 The more the temperature drops, the more your furnace has to work to heat your home. And unfortunately, that can lead to some people finding themselves with a heater that's stopped working.
Fortunately, some of the most common issues that can happen to your furnace in cold weather are not major or catastrophic. Some issues can even be handled by the homeowners themselves. Keep reading to learn about the top issues you may experience in the winter and the troubleshooting steps that you can take.
5 Common Furnace Problems in Cold Weather
A DIRTY AIR FILTER
We start with this issue because it's about the easiest cold weather furnace problem to fix. And it's one of the most beneficial maintenance tasks a homeowner can do on their HVAC system.
Having an air filter in your furnace that is dirty or clogged can cause problems including one that will have your furnace cycling on and off frequently (and inefficiently). It can also impede proper air flow through your ducts. A dirty filter can even cause your system to stop working altogether. 
PROBLEMS WITH YOUR THERMOSTAT
Is your furnace short cycling? That is when it is frequently turning on and off. If it's not due to a dirty air filter, a thermostat issue may be to blame.
TROUBLESHOOTING: First make sure that the thermostat is set to the right temperature. If that is not the problem, you can change the thermostat batteries and see if that remedies any heating problems you're having.
Sometimes a thermostat needs to be recalibrated. Contact Maximum for service, and we can accurately diagnose the problem and repair your furnace.
FEELS COLDER THAN THERMOSTAT TEMPERATURE
Does it feel colder than what your thermostat says it is? This could be an issue with having very dry air. Dry air is a regular winter issue, making it simply feel colder than it really is. That's why controlling humidity levels is part of complete home comfort system. You can get control of your home's humidity levels with a whole home humidification system.
Maximum Heating & Air Conditioning provides professional humidifier installation for homes in the Aurora area. Call us at (630) 788-4688 or contact us online to request a free estimate and to learn more about how a humidifier could improve the comfort level of your home in the winter.
POWER OUTTAGE
Here in northern Illinois, we know what damage and problems a strong winter storm can create. A massive power outage can leave us in the dark and cold for days, but even a short-term power outage can stop your furnace from working. Even though the power may be on right now, a temporary outage may be what's caused your furnace to stop working.
TROUBLESHOOTING: After a power outage, you may need to relight your furnace pilot light. You may also want to check the breaker box and make sure all circuits are in the on position. You could find that a circuit that has tripped and is cutting off power to your furnace.
FURNACE TAKES A LONG TIME TO HEAT YOUR HOME


Does it feel like it's taking too long for your home to heat up after you get home from work? You may be setting the thermostat too cold during the time you are away. Your furnace may just be needing a long time to warm up your home as much as your at-home temperature to be.
You can be in better control with your home's temperature level with a programmable thermostat. They've been shown to help homeowners save money by helping their HVAC system work more efficiently.
TROUBLESHOOTING: Set your away temperature to a higher number than you have been. This may cause an increase in your next energy bill, but it will help your home reach the desired temperature much sooner.
These are just some of the common issues that can happen when it's freezing outside. And many are able for the homeowners to try and fix themselves. However, there are many other things that can be wrong with a furnace that require a professional furnace technician to handle. And unfortunately, one of the problems your furnace could be having is that's it's simply too old or too broken to work.
If you find you need a new heating system, Maximum Heating & Air provides quick and affordable furnace installations. Learn more out our heating installation service here. 
Emergency Heating Repair in Aurora
Don't be left freezing. Maximum Heating & Air in Aurora, IL delivers preventive maintenance service, routine repairs, new HVAC installations and 24-hour emergency service even in freezing temps.
If your heating system is not working or having any kind of concerning problems, contact Maximum. You can schedule a winter furnace tune-up in the fall before the cold temperatures come.
Call us at (630) 788-4688 or you can request a free estimate for work online.