Furnace, AC and other HVAC Discounts & Coupons
When you choose Maximum Heating & Air in Aurora, you can feel confident in knowing that you will receive professional, high-quality service from a team of experienced heating and cooling technicians.
We have a great reputation for delivering top-notch HVAC service at a great price for our customers. Among the dozens and dozens of 5-star reviews we receive, our customers regularly comment on how we delivered the work they needed at a fair price - with no surprises. While we pride ourselves on providing fair and upfront pricing, we are happy to offer additional ways for customers to save money on the comfort service their home needs.
In addition to fair prices on the quality of services we provide to homeowners and businesses all across the Aurora community, we provide several HVAC discounts and coupons. Take a look below at some of the great coupons and special deals!
Check back here for seasonal promotions. Take advantage of our great opportunities to save even more money when getting the heating and cooling work your home or business needs in the Aurora area.
HVAC Discounts for Coronavirus Frontline Workers
As a thank you to the amazing men and women working the front lines during the coronavirus pandemic, we are providing a special discount. If you find yourself in need of a repair on your air conditioner or a complete AC replacement, contact us at Maximum Heating & Air to receive 20% off. Call us at (630) 788-4688.
Maximum 6 Stimulus HVAC Package Deal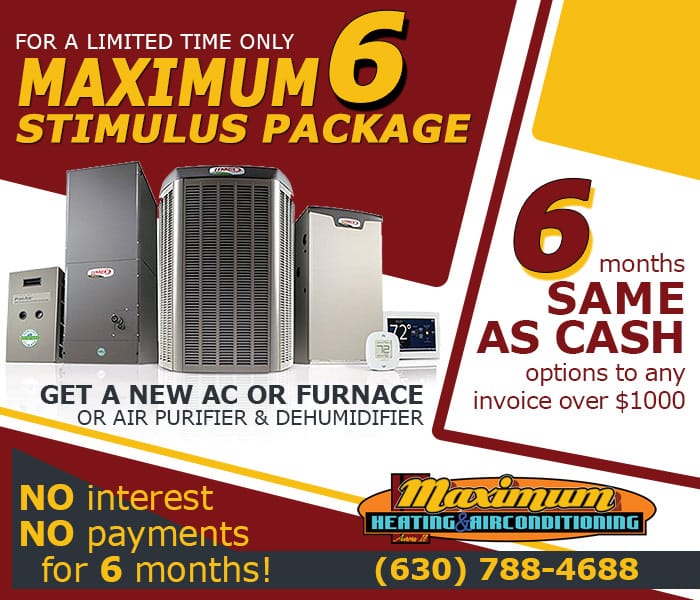 For a limited time, we are providing an opportunity to make a valuable investment in your home. when purchasing a new air conditioner, a new furnace, or a new air purifier and dehumidifier, you may be able to finance it for 6 months SAME AS CASH!
With this exclusive deal from Maximum Heating & Air, you will have NO interest and NO payments for 6 months! Upgrading your home's comfort systems results in immediate benefit with feeling improved temperature control in your home. A better, efficient system will also mean your are increasing energy efficiency. This is a benefit you can expect to see with lower monthly energy bills! And beyond the immediate benefit, improving your HVAC systems simply make your home more valuable!
Call us at (630) 788-4688 to learn more about how you can improve your home with our Maximum 6 Stimulus Package.