Don't be stuck in the middle of a cold Aurora winter left in the cold waiting on repair for a broken furnace!
Get quick and professional service for your home's heating needs from Maximum Heating & Air Conditioning.  With our team of highly trained heating system technicians, you can count on Maximum to handle whatever problem or issue that your furnace or heating system is having.
Call Maximum with your urgent heating repair and service needs today at (630) 788-4688.
No matter what type or brand of heating system you have, Maximum can fix it. We service all types of furnaces and heating systems.
DON'T HESITATE TO GET YOUR FAULTY FURNACE FIXED
Should you call for furnace repair service if it seems you have a relatively small problem that you think you can live with?
Yes, absolutely. A small problem can quickly turn into a big, expensive problem if left ignored.
Is your furnace making weird sounds?
Is your heating system needing to work harder to keep your house warm?
Have your energy bills seemed to have gone up?
These are warning signs you have a problem and need a heating repair. Even if your furnace is providing your home with some level of warming, don't hesitate to get even the smallest of problem addressed.
Our home's heating and air systems are complicated with a lot of components. Sometimes Maximum technicians are called out on a job that is simple and takes virtually minutes to fix. If you're lucky, this is the kind of problem you are dealing with. You can trust that we will come out and quickly work to resolve only the problem your system is having. But don't wait.
No heater problem is too small to ignore. You may be dealing with something that is dirty and clogged. Perhaps a little part is loose and rattling. These little issues will only require quick repairs or minor heating maintenance if you get them handled right away. If you wait, they can quickly turn into big problems.
Your home's heating and cooling system requires all parts to work well together to continue providing you efficient and reliable warm air. Once something doesn't work as it should, your system could potentially be damaged. It also will not operate as efficiently as it should.
MAXIMUM'S FURNACE REPAIR PROCESS
We are proud to know that our customers rely on us to have experienced technicians who deliver friendly, professional service. When a repairman arrives to address your heating system, they will first perform a diagnostic test of your furnace in order to thoroughly diagnose the problem. Once we know what repairs need to be made, we will provide a detailed written estimate of the work needed to get your heating system up and working again.
QUICK & CONVENIENT HEATING REPAIR
Call Maximum Heating & Air Conditioning today for furnace or heater repair at (630) 788-4688. You can also request a free quote online. We service homes and businesses in the Aurora, Illinois area.
If your heating system is beyond repair, Maximum technicians can fully replace your unit with the installation of a new heating system. We provide professional installation of a variety of quality high-efficient heating systems.
AVOID BIG HEATING SYSTEM PROBLEMS
The best way to avoid your home's heating system from breaking down is with regular maintenance. Ongoing furnace maintenance is something homeowners should make sure gets handled. Changing your air filter on a proper schedule is one of the most important tasks you can do. You should also occasionally check the various components of your heating and cooling system, especially in late summer well before the temperatures start to dip.
While some maintenance can be done by homeowners, you can arrange for service from Maximum Heating & Air Conditioning for complete and thorough professional maintenance. Our technicians provide maintenance and tune-ups to furnaces and other heating systems to make sure your home is ready for the upcoming cold northern Illinois winter.
Our technicians' HVAC checks and tune-ups can identify little issues. Handling heating problems when they're small can avoid facing big (and potentially dangerous) problems down the road.
Call Maximum Heating & Air Conditioning for maintenance service at (630) 788-4688. You can send a request for service online.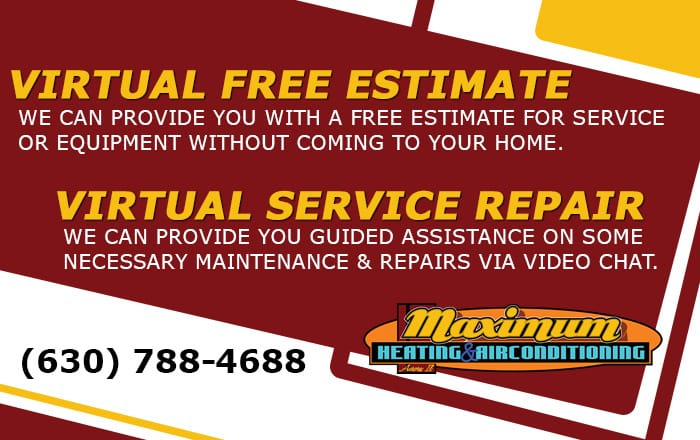 Maximum Heating & Air Conditioning wants to make things a little easier during these tough times. For a limited time, we are offering our MAXIMUM 6 STIMULUS PACKAGE. With this deal, you can get a NEW AC or NEW FURNACE or a NEW AIR PURIFIER & DEHUMIDIFIER for 6 months, SAME AS CASH!
That means NO INTEREST and NO PAYMENTS for 6 months on any invoice over $1000.
Don't let financial concerns keep you suffering through the summer without an air conditioner. Give us a call at (630) 788-4688 today and let us know how we can help.
To ensure the highest level of safety and distancing, we provide Virtual Free Estimates and Virtual Service Repairs. Let us help you solve your problem and get you the information you need conveniently and safely by phone & video chat.